82.5 Acres Pierce County - SOLD!
Elmwood 82.5 Acres
Awesome Land with Cabin Near Nugget Lake!
This one is for you. Few properties come available on the market with all the intangibles for trophy whitetail hunting in Pierce County, WI. This neighborhood produces BIG BUCKS every year and this is one of the most unique pieces with custom cabin you'll find!. It's a turn-key camp with marketable timber, south facing slopes, large ridge, thick bedding areas, seclusion and a man-made pond - with fish!*

The cabin is unique (see the pictures) and was designed from scratch. There is generator power with battery back-up and an outhouse.
This area is known as the site of the 'Rock Elm Disturbance' - the site of a recorded meteor strike over 400 million years ago. It gives the area character and adds to the visual and geological importance of the property. The large south facing ridge, rock out-croppings, and mature timber make this property as unique as you'll find. The core 80 acres is 40 acres off town roads on the east and the west and it's directly north of Nugget Lake Park. Only one other land owner to the south separates this property from the Park! The terrain is text book for offering multiple stand sites along heavily used trails. If you're a bow hunter and enjoy the strategy behind choosing the optimum stand sites for each hunt, then this property will be perfect for you.
This property is full of mature oak and other mixed hardwoods and there are thousands of dollars in timber value available if you choose to harvest it. NO GOVERNMENT TIMBER PROGRAMS!
The cabin comes furnished 'as is' and will make this property a turn-key camp for you and your family to enjoy year-round. It's in excellent shape and was built in 2005.
You will not be disappointed!
*according to seller.
Directions:
HWY 72 east of Ellsworth to right at 170th St. Property on right on 170th St.
Please respect landowners and do not trespass on property for viewing without permission.
Features:
Property Type:
Hunting, Sold
Zoning:
Residential Agricultural
Road Access:
Yes, 170th St
Residential Style:
1.5-story
N4791 170th St, Elmwood, WI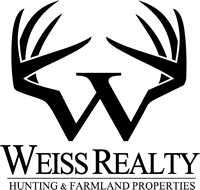 To receive additional information about this property, fill out the form below.