Our Agents

Office: (715) 672-4444

Mobile: (715) 279-0233

Fax: (715) 672-5102

Broker/Owner, Land Specialist
Gordy Weiss grew up in the heart of West Central Wisconsin in Pepin and Buffalo counties. When he was not tending cattle on the family farm, young Gordy spent a good deal of time in the whitetail woods, learning about their behavior and habits.

*WI/MN Licensed Real Estate Broker

More about Gordy Weiss and his properties

Office: (715) 672-4444

Mobile: (608) 289-7202

Fax: (608) 882-0745

Agent, Land Specialist
Aaron utilizes his hunting skills and experience with food plots, water sources, wind direction and stand location to help clients achieve their land ownership goals. His background, knowledge and passion for the outdoors go hand-in-hand in his evolution into a Land Specialist with Weiss Realty.

*WI Licensed Real Estate Agent

More about Aaron Dobbs and his properties

Office: (715) 672-4444

Mobile: (507) 269-2742

Fax: (715) 672-5102

Agent, Land Specialist
Chad grew up in a rural setting in southeastern Minnesota. He spent many summer days working for neighboring farmers allowing him to become very familiar with the role agriculture plays in the local economy and to understand the farming practices in this part of the country.

*MN Licensed Real Estate Agent

More about Chad Garteski and his properties

Office: (715) 672-4444

Mobile: (715) 896-0154

Fax: (715) 672-5102

Agent, Land Specialist
Dennis is a native of the Badger State, residing in Black River Falls, Wisconsin. Being raised on a family Christmas tree farm birthed his passion for the outdoors. Dennis spent many a childhood day exploring the hills and valleys of Jackson County's Oak Ridge country. He has developed a solid work ethic with nearly three decades of retail sales and work force management. Dennis is an avid outdoorsman.

*WI Licensed Real Estate Agent

More about Dennis Guenther and his properties

Office: (715) 672-4444

Mobile: (715) 577-6370

Fax: (715) 855-9466

Agent, Land Specialist
Jake was born and raised in Eau Claire, Wisconsin where deer hunting and the outdoors were in his blood. He has dedicated his work to help others achieve their goal of acquiring or selling a quality piece of property. Jake has long found himself surrounded by farmers, landowners, and other hunters, which has given him the ability to find premier farms and connect with motivated buyers. 5 Years in Real Estate

*WI Licensed Real Estate Agent

More about Jake Davis and his properties

Office: (715) 672-4444

Mobile: (608) 751-4025

Agent, Land Specialist
Andy was born and raised in Evansville WI, a small town just south of Madison. Aside from real estate he has also been in construction for 10 years making him a valuable asset when looking at residential properties.

*WI Licensed Real Estate Agent

More about Andy Phillips and his properties

Office: (715) 672-4444

Mobile: (651) 247-3513

Fax: (715) 672-5102

Agent, Land Specialist
Jim grew up in the Stillwater area. As a kid he spent much of his time hunting and fishing at his family's cabin in Northwest Wisconsin and family farm in North Dakota.

*WI/MN Licensed Real Estate Agent

More about Jim Swanson and his properties

Office: (715) 672-4444

Mobile: (507) 261-0188

Agent, Land Specialist
*MN Licensed Real Estate Agent

More about Kit Johnston and his properties

Office: (715) 672-4444

Mobile: (715) 210-0902

Agent, Land Specialist
Being born and raised in Washington State David has vast experience across the US chasing big game which has led to an obsession with Hunting, Fishing, and a true love for the land.

*WI Licensed Real Estate Agent

More about David Zempel and his properties

Office: 715-672-4444

Mobile: 608-323-0116

Agent, Land Specialist
Alex grew up in Arcadia, WI. At a young age Alex was introduced to hunting and spending time in the outdoors. Growing up, he was able to be a part of many different hunting tracts developing them into very respectable pieces of property for hunting.

*WI Licensed Real Estate Agent

More about Alex Loesel and his properties

Office: 715-672-4444

Mobile: 507-382-1416

Agent, Land Specialist
Born and raised in southern Minnesota, Andrew has always admired the outdoor lifestyle. Early on he gained many valuable lessons while helping out on his grandparent's farm. It was there he became addicted to the sport of hunting, starting out chasing pheasants and deer with his family each fall.

*MN Licensed Real Estate Agent

More about Andrew Larson and his properties

Office: 715-672-4444

Mobile: 715-296-0800

Rural Residential Specialist
Kasie brings additional entrepreneurial experience and a passion for real estate to our team. Her focus on rural residential homes and recreational properties aligns with her passions and personal real estate transactions.


More about Kasie Scheel and her properties

Office: 715-672-4444

Mobile: 715-225-9804

Agent, Land Specialist
Joel was born and raised in the Chippewa Valley, growing up in Fall Creek and currently living in Eau Claire with his black lab Bella.

More about Joel Michaelson and his properties

Office: 715-672-4444

Mobile: 608-780-1811

Agent, Land Specialist
Kaleb lives and has grown up in La Crosse, WI, spending the majority of his time in the outdoors. When growing up, Kaleb was often found chasing bass on the Mississippi River or sitting in a duck blind with friends and family. He was introduced to the whitetail world his senior year of high school and it quickly became a passion, even lifestyle, of his.

More about Kaleb Christian and his properties
Office Staff
Rhonda Weiss
Office Manager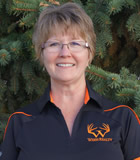 Jeanette Lehman
Administrative Assistant